December 29, 2016
Save Money by Switching to an Eco-Friendly Shower Head

Most people do not put a lot of thought into their bathroom. It is just something that we all enjoy having access to. However, it can benefit you to think about some features of your bathroom, especially since you spend time in there running water. Even if you and your family of four attempt to conserve water by taking quick showers; your family will still run the shower approximately one-hour daily and that doesn't count flushing the toilet and washing your hands. That is why we encourage you to take a long look at the many benefits of an eco-friendly shower head.
The Most Important Reason for Changing Your Shower Head
An eco-friendly shower head is also considered a low flow shower head. They use very little water per minute. This can decrease the amount of water you use per shower, so that even if your entire family takes 15-minute showers, you still only use a fraction of the water that you normally would. In turn, this can decrease the amount of power that you use because your pump will not have to run as often, your water heater will not have to work as hard, and your water bill will drop because you aren't using as much water. It is a difference between using 2.5GPM or less than 2GPM. This could easily save you $50 each month on your water bill and a fair amount on your power bill each month as well. Making the switch now could save thousands of gallons of water each year. In a world where we are all trying to save money, why would you continue to put yours down the shower drain?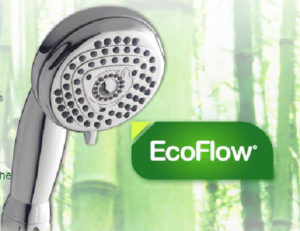 Other Reasons to Consider Eco-Friendly Shower Heads
Many people worry that by using less water, they will have to stay in longer to get clean. They worry that they are going to be giving up the relaxation of having powerful jets of water hitting them, massaging their troubles away. None of this is true. The showerheads that are available today do not cause you to sacrifice pure enjoyment to conserve water. This is because most all low flow, eco-friendly shower heads are pressurized. They hold water inside of them so that your shower experience feels like you are using a high pressure shower head. Many of them also have larger heads so that more of your body is covered by water at one time than traditional shower heads. There are also rain shower heads that save water and many other options.
Isn't Saving Worth It?
If all it takes is something as tiny as changing your shower head to save money, isn't it worth it? By choosing a low flow shower head, you are doing good things for your pocket and saving water as well. It is a win-win and the fact that you also get a pressurized shower out of the deal should be considered an added bonus. Make the switch. Your new eco friendly shower head will pay for itself quickly.