Call Us Today For More Information!
1st Plumbing Services provides quality plumbing repair and maintenance to commercial and residential customers throughout Bentonville, Rogers, Springdale, and Bella Vista, Arkansas and the surrounding areas. Our experienced team of plumbers will solve your plumbing problem efficiently and accurately.
24 Hour Plumbing Service Northwest, AR
1st Plumbing Services can provide your home or business in Northwest Arkansas with retrofitted energy efficient plumbing fixtures and appliances to help reduce your utility costs while also conserving the earth's natural resources. From AO Smith water heaters to Bio-Clean preventative maintenance treatments and much more, you can rest assured that your residential or commercial plumbing project will be completed with only the best products available on the market. This, coupled with our affordable plumbing services, unmatched expertise, and courteous, friendly customer service, makes 1st Plumbing Services the only company you need to handle all of your plumbing projects.
We are available for 24 hour plumbing service for those unpleasant emergencies that catch you off guard, so don't hesitate to call us when you need us.
Program our number into your phone, and we'll always be just a fingertip away!
We offer quality plumbing in Northwest, AR
Continue Reading
When it comes to bathroom upgrades, you cannot go wrong with installing a rain shower. They are beautiful when installed and relaxing to use. They add value to a bathroom, even though the price of them is very affordable. They are designed to wash you from above so that your entire body is covered with water gently cascading over you. This is one of the main reasons people want to know more about rain shower installation. They want the all-over water flow that traditional shower heads are unable to provide.
Proper Rainfall Shower Head Installation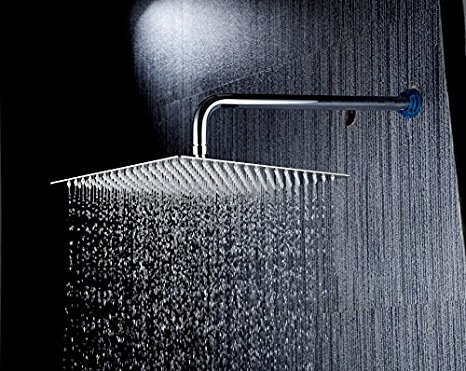 If you want a truly impressive rainfall shower head installed, you will want to do it the right way. This could mean running new pipes in the bathroom, but it will be worth it. Standard shower heads use a pipe that is one half an inch in diameter. Many of the rainfall shower heads that are available need a larger sized pipe to work the way that they are supposed to. You can still have a rainfall shower head if you have the smaller sized pipes in place, but it will take a plumber to make it work properly. Therefore, if you have an already established shower, you may want to seek out a shower head that uses the size pipes you already have to save on installation costs.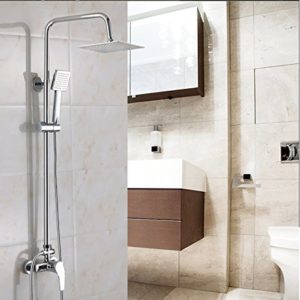 Once you have the shower head, a plumber will need to tie in to the existing water lines that are already there or add new water lines. They may also add a fitting to enlarge the water line to accommodate the new rain shower head. Either way, they will run the water lines up toward your ceiling and then take it across the ceiling to where you want it to be in your shower. They will install the base plate on the ceiling so that it can mount flush or have an arm, depending on the way you want it to be installed and the shower head's needs. He will also secure the new water lines to something so that they are not free to wiggle around with water pressure changes.
If your home does not have attic space, the plumber may need to take out a part of the ceiling to secure the new water lines. This should be a simple repair considering how great the new shower head will look, but it is a concern for some people.
Other Alternatives for a Rain Shower Head
Many people choose to do a DIY installation with the rainfall shower head. It is possible to have an arm extension added to the existing pipes so that you avoid having a plumber come in. The shower arms are easy to install, but most will not put the rainfall shower head into the middle of a shower or tub. They can get it up higher so that the rain will fall over your body, but you will be confined to standing near the shower wall, the same as you currently have to stand. You also must look at an exposed pipe and some people do not want to see it in their shower. You should be the one to decide how great you want for your shower to look with a rainfall shower head installed.
Continue Reading
Does your shower function the way that you want it to? Do you have a steady stream of water or would you describe your shower as a trickle of water that takes forever to rinse shampoo from your hair? Most people want a shower that has a lot of water pressure. They want a shower that massages while rinsing away the stress from their day. For that reason, if you don't have the shower that you want, it is time to increase the shower water pressure in your home.
Water Pressure in Your Home
Not all homes have as much water pressure as we may hope that they would. In apartment buildings, if you have several people washing laundry or taking a shower at the same time, you may not have as much as you would hope, even though the pipes are fine. In a single-family home, you may have good pipes, but little pressure and you may blame it on a faulty pump or something else. Chances are good that if you start thinking smaller, you will get the water pressure you want, without upgrading all the expensive plumbing parts of your home. Your issue may not even be in your home's plumbing. It could simply be your faucets and your shower heads.
Get the Maximum Amount of Water Pressure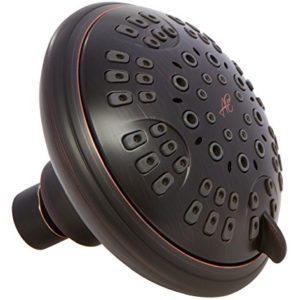 One of the first things you will want to do if you feel that you have zero water pressure in your shower is to clean the shower head. If you have iron build up or other deposits in your shower head, you are losing out on pressure. A good way to clean them is to soak the shower head in vinegar overnight. You can do this by placing a sandwich bag filled with vinegar over the shower head and leaving it overnight or by taking the shower head down and soaking it in a sink overnight.
If that doesn't work, you may want to take the shower head down and locate the flow restrictor, so that you can remove it. A flow restrictor slows down a shower so that you are not wasting water. The downside is, less water can flow out through your shower head and in homes that are already low on pressure, you may end up with a trickle. You should look at the shower head you have to find out if there is a flow restrictor and how to remove it.
Upgrade Your Shower Head
If neither of those things are helpful and you see no increase in your shower pressure; you may want to upgrade your shower. There are pressurized shower heads available and many of them are very affordable. You can also purchase a cheaper shower head and remove the flow restrictor to see if perhaps your lack of pressure was caused by a clog in the old shower head that you couldn't remove with vinegar. The best thing about the pressurized shower head is even if your pipes have issues that restrict water flow, you have a combination of air and water mixed to make it more powerful. It is a win/win situation because you can avoid tracking down more expensive ways to increase pressure.
Continue Reading