November 9, 2016
Rain Shower Installation
When it comes to bathroom upgrades, you cannot go wrong with installing a rain shower. They are beautiful when installed and relaxing to use. They add value to a bathroom, even though the price of them is very affordable. They are designed to wash you from above so that your entire body is covered with water gently cascading over you. This is one of the main reasons people want to know more about rain shower installation. They want the all-over water flow that traditional shower heads are unable to provide.
Proper Rainfall Shower Head Installation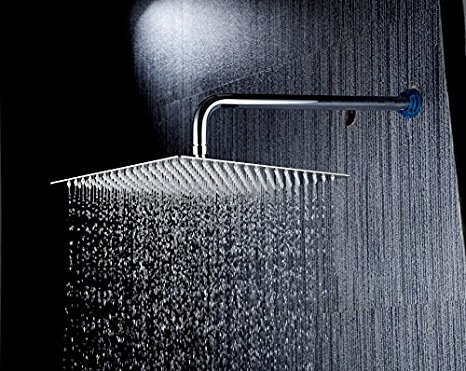 If you want a truly impressive rainfall shower head installed, you will want to do it the right way. This could mean running new pipes in the bathroom, but it will be worth it. Standard shower heads use a pipe that is one half an inch in diameter. Many of the rainfall shower heads that are available need a larger sized pipe to work the way that they are supposed to. You can still have a rainfall shower head if you have the smaller sized pipes in place, but it will take a plumber to make it work properly. Therefore, if you have an already established shower, you may want to seek out a shower head that uses the size pipes you already have to save on installation costs.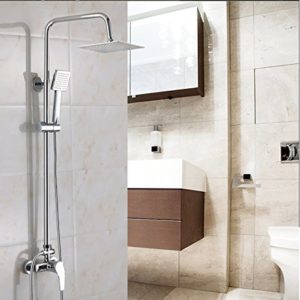 Once you have the shower head, a plumber will need to tie in to the existing water lines that are already there or add new water lines. They may also add a fitting to enlarge the water line to accommodate the new rain shower head. Either way, they will run the water lines up toward your ceiling and then take it across the ceiling to where you want it to be in your shower. They will install the base plate on the ceiling so that it can mount flush or have an arm, depending on the way you want it to be installed and the shower head's needs. He will also secure the new water lines to something so that they are not free to wiggle around with water pressure changes.
If your home does not have attic space, the plumber may need to take out a part of the ceiling to secure the new water lines. This should be a simple repair considering how great the new shower head will look, but it is a concern for some people.
Other Alternatives for a Rain Shower Head
Many people choose to do a DIY installation with the rainfall shower head. It is possible to have an arm extension added to the existing pipes so that you avoid having a plumber come in. The shower arms are easy to install, but most will not put the rainfall shower head into the middle of a shower or tub. They can get it up higher so that the rain will fall over your body, but you will be confined to standing near the shower wall, the same as you currently have to stand. You also must look at an exposed pipe and some people do not want to see it in their shower. You should be the one to decide how great you want for your shower to look with a rainfall shower head installed.