November 19, 2017
Custom Glass Shower Enclosures
In many of the newer homes being built at this time, there are a lot of people ditching tradition. They like creating homes that are one of a kind or uniquely different from the ones that were being built a few years ago. It is the modern style that everyone loves and there is no place that proves it more than in the bathroom where people are choosing updated toilets, faucets, and even custom glass shower enclosures.
Types of Glass Shower Enclosures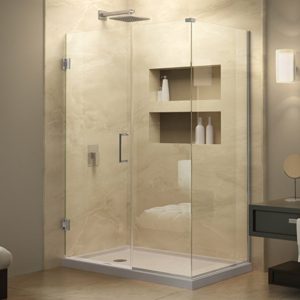 Most people prefer to stick with a clear glass shower enclosure because they are easy to maintain, but that does not mean it is the only option for you. There are HD glass options, which many people prefer since there is less risk of a greenish tint discoloring your shower tile. You may also choose a frosted or rain glass. Both add a little different texture to your bathroom's shower. If you want, you can also choose a colored glass to kind of hide what is in the shower. If you want to avoid the metal in your shower, you may also choose a slightly thicker "frameless" glass enclosure. It is usually 3/8" or 1/2" thick rather than the traditional 3/16" or 1/4" glass showers that have a metal frame.
Average Cost of a Shower Enclosure
The cost of a frameless shower enclosure is currently at least $900, but could go as high as $1300. It depends on the thickness of glass that you want to use and how large a shower you are trying to create. A framed shower enclosure is much more affordable for most people at around half the price, but it loses out on some of the sleak appeal that comes with frameless. A standard shower size will be less costly than a large shower enclosure with dual shower heads on each end that can hold two people at a time with room to move around. To find out what price range your project will fall into, you will have to talk to a company that specializes in plumbing or shower enclosures. A place like Arkansas Glass and Mirror will be able to give you an estimate that is easy to understand so that you can create the shower space you want.
Design Your Dream Bathroom
When creating a new bathroom or remodeling one that you are bored with and no longer functions the way you want it to; you have many options. There are unique tiles and patterns for you to consider and shower heads that will set it apart from "tradition". Very few people are settling for basic showers. They are creating areas that allow them to relax at the end of a long, hard day. You can create a space for yourself that will let you do the same thing. We suggest that you do a little research and find a style that suits your personality. Once you have done that, choosing the right toilets, sinks, faucets, and showers will be easy. An added bonus is that most all of it will be well within your budget. What more could you hope for?